Cisco VIP 2021- Hat-Trick
Year started with another good achievement from Cisco VIP 2021 (Hat-Trick)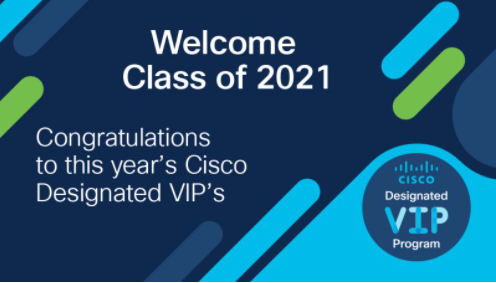 Thank you all for this achievement, who are supported to get this position- especially My Family.
Being Myself as Big fan of techinlogy and more passionate about new technologies – I am like a can-do attitude, YES for anything and Easy and Fast learning, and do challenge myself.
In this journey of technology – Last 6+ years and 3 years being a Cisco VIP I have learned myself many new things and some of the community questions turn in into my List of Labs and Learning list which pushed me an extra step ahead of learning skills all the time.
As a Cisco VIP, I have come to know very interesting upcoming new changes in Cisco Technologies and also where the technology trends leading to the future. Also, Many Good people I come across in this journey in the industry and Cisco VIP's – Most of them are very helpful and kind enough to share their views and knowledge.
All the efforts paid off – thank you Cisco recognizing many talented people around the world (only 56 Cisco VIP )

thanks for the stop by visiting this page.
Happy Labbiiiiiiiiiiiiiiiiiing !!!