4th Time Cisco VIP ..Good Start Year 2022
Happy New Year all readers !!!
After a Good break of IT for 3 weeks on Holiday …come back to reality and settle from a Holiday mood to a working mood!
It's very Difficult sometimes, it was so nice holiday they went like a small dream, I can not believe it, But that is a fact. i was very happy to stay away from Computer for more than 23 days for the first time in my entire IT journey, But I learned a lesson with this, this is very important and every IT person needed.
After coming back and starting pickup work and also community got a piece of good news from Cisco i was awarded another year of Cisco VIP 2022
Another surprise was ..I have shared this information on in LinkedIN – 1000 people viewed as on today when i was writing this Blog.
Just felt what a Day and Respect !!

Thank you all for your support and sharing the information all over …this gives me booting my moral to do more for the better.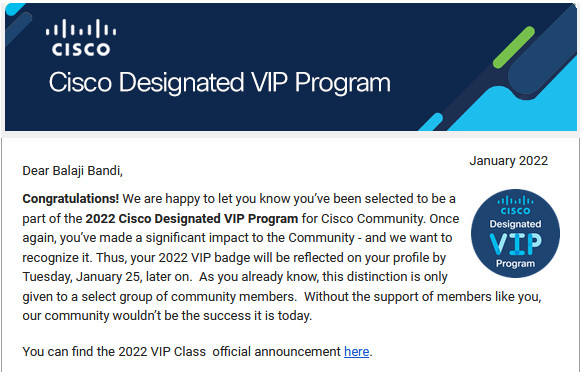 This year I am more focused on :
SD-Access
PxGrid
Stealthwatch
SGT/ SXP (ISE deep Dive, with posture)
Python automation
Happy Labbing !!!